In its nearly 75-year history, the 122nd Army Band has seen many changes. The latest has seen the unit undergo a transformation that has been recognized and praised by audiences and won a 2017 Music Performance Team of the Year award from the Army Music Program! The 122nd has emerged as more capable and versatile unit, with flexible ensembles that can perform for an even wider range of missions.
The shift has been underway for several years and came into full view with the 122nd's well-received Summer 2016 concert tour and in a series of unique videos made for Facebook and Twitter. The evolution continues with our 2017 Ohio Stands Ready tour, kicking off on June 25 and marching across northeastern and central Ohio. These shows bring together the traditional concert band, classic big band, and our rock band Flashbang for a performance that swings from foot-tapping Sousa marches to rocking renditions of Stevie Wonder and The Doors hits to heart-swelling patriotic music.
The ensembles that will be performing during our summer concerts are termed by the Army as "Music Performance Teams", or MPTs. The MPT system formalizes a concept that has long existed in many military music groups: having several smaller, specialized ensembles within the larger organization. For many Army bands that idea is realized in a rock band or a jazz band, plus a few smaller instrumental ensembles like a brass quintet. The 122nd has taken that concept a step futher and a step into the future with the formation of "Full Metal Racket", a highly flexible and versatile group of Soldiers that can perform for a wide range of missions.
What distinguishes Full Metal Racket among other MPTs in the Army is its ability to break down further into sub-ensembles. Though it is capable of performing as a full concert band (but not restrained to traditional concert band literature), Full Metal Racket contains no fewer than eight smaller separate performing groups — from a jazz ensemble to a flute trio to a pair of pop music groups with multiple vocalists. The membership overlaps between these groups, allowing the entire ensemble to perform for a wide range of missions, including support for ceremonies, pop-heavy shows for students, and the creation of videos for Facebook and Twitter that reach far beyond the traditional "Army band concert" audience.
The videos, from a raucous Hang on Sloopy to cheer on Ohio State in their drive for a college football championship (better luck next time) to a stirring vocal rendition of the Star Spangled Banner to a fun and offbeat take on the powerful John Williams Star Wars score, have greatly expanded the 122nd's ability to connect with new and diverse audiences in fresh, exciting, and contemporary ways.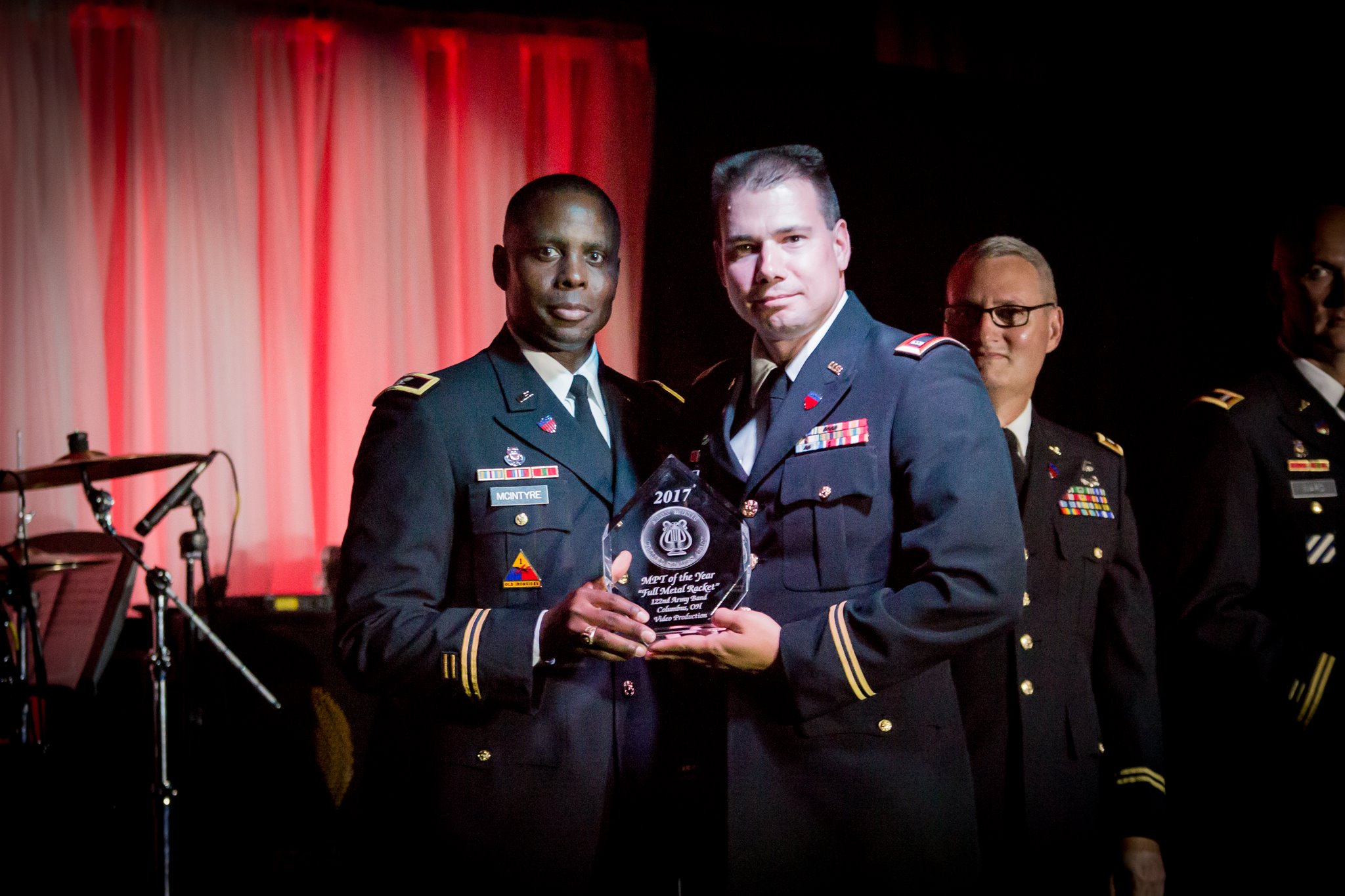 Chief of Army Music COL Neal F. McIntyre presents 122nd Army Band commander CW2 Joseph Lewis with the Video Production award at the 2017 Army MPT of the Year awards ceremony.
The Star Wars video — The Empire Strikes a Beat! — won the Video Production category of the 2017 Army Music Performance Team of the Year competition. In the MPT of the Year competition there is no distinction between a "one weekend a month and two weeks in the summer" National Guard band like the 122nd versus the full-time active duty Army bands that are stationed around the world. The recognition isn't just notable for the validation of our hard work against some of the best and most-practiced MPTs in the Army — the vote was only open to to members of the Army Music Program, meaning that our fellow Army musicians selected us for this award.
It is thrilling and humbling to be recognized for the quality of our work, and it inspires us to work harder and perform better than ever in all that we do. From parades and ceremonies to rock bands and Facebook video performances, the 122nd Army Band is more versatile and capable, and reaching a bigger audience than ever before to help support our troops and foster goodwill with the public now and into the future.