The 122nd Army Band is just one unit in the Ohio National Guard. With 17,000 Soldiers and Airmen, the Ohio National Guard is one of the largest state National Guard forces in the nation.
Members of the Ohio National Guard are highly trained professionals with the same skills and expertise as their active duty counterparts. They stand ready to respond in the support of missions overseas and operations here at home.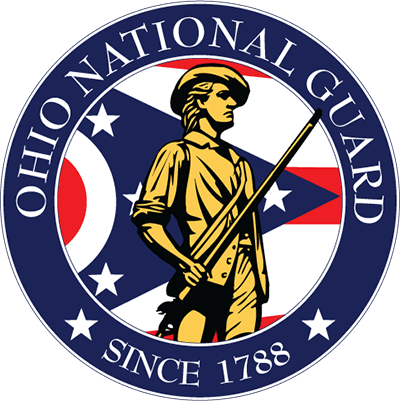 The Ohio National Guard is a cost-effective force for both the state of Ohio and the nation. As a part of the United State's military's strategic reserve, the National Guard is able to provide significant capability from a minimal budget.
As a member of the Ohio National Guard, Soldiers and Airmen typically drill for one weekend a month and for two weeks in the summer. They are active in their home communities, supporting and volunteering with organizations that improve the lives of all Ohioans. The Soldiers, Airmen, and families of the Ohio National Guard are resilient and prepared to respond to any challenge they may face. They serve in an organization that strives to be inclusive and respectful, fostering the growth of both the individual and the team.
Core Competencies
Purpose: The Ohio National Guard exists to serve the Citizens of Ohio and America by fulfilling our state and federal military role of providing public safety when ordered by the Governor or support of the National Military Strategy when ordered by the President.
Mission: When called, we respond with ready units to execute federal, state and, community missions.
Vision: The Ohio National Guard strives be a relevant operational reserve powered by a diverse team of engaged Soldiers, Airmen and Civilians, and to be respected for its leadership and ability to produce and employ ready units.
Values:
Integrity
Do what is right in all circumstances
Perform legally, honestly, and ethically
Excellence
Strive for the highest level of performance
Approach every challenge with a commitment to success
Reliability
Assume personal responsibility for the organizational mission
Meet all commitments
Diversity and Inclusion
Respect and value the differences of all members of the organization
Commit to fostering an environment in which everyone has the opportunity to succeed
Global Teamwork
Recognize that working together allows greater achievements than working alone
Commit to coordination and cooperation with partners around the world
Trust
Share a commitment to these core values and to selfless public service
Practice open communication and transparency
More on the Ohio National Guard
For more on the Ohio National Guard, including how the Guard is helping to serve your community and your nation, and for information on how to become a member, please visit the Ohio National Guard at ong.ohio.gov
When called, we respond with ready units to execute federal, state, and community missions.