On October 7th, 2014, members of the Ohio National Guard's 122nd Army Band took to the stage of world-famous Severance Hall for a joint performance with the Belgrade Philharmonic Orchestra. It was the 122nd's second performance at Severance Hall this year, following a combined concert with the Cleveland Pops Orchestra in May celebrating Memorial Day.
The Belgrade Philharmonic Orchestra was engaged in a tour of the United States, with Cleveland as their second stop, following a performance in Chicago, and followed by stops in Washington, D.C., and at Carnegie Hall in New York City. Cleveland, however, is home to one of the largest populations of Serbian immigrants in the United States, making the city a natural stop for the Belgrade Philharmonic's U.S. tour.
Under the direction of Maestro Muhai Tang, the orchestra performed a program consisting of orchestral classics from the likes of Khachatiturian and Sibelius, as well as calling back to their home nation with a work by Serbian composer Stevan Hristić.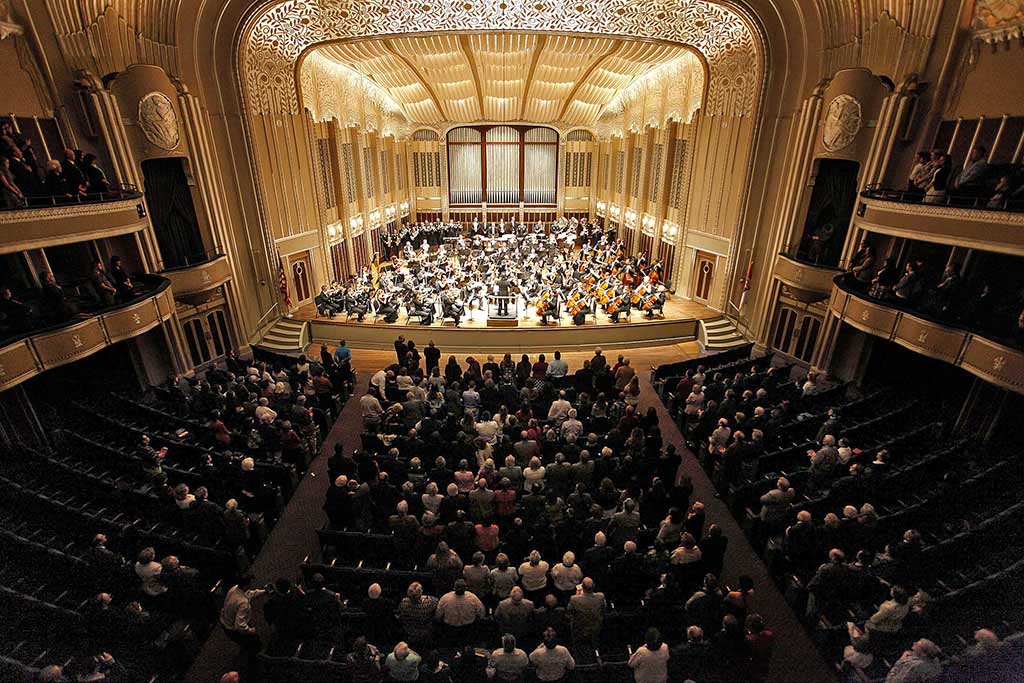 However, before the symphonic masterpieces began, the orchestra was joined by more than 20 members of the 122nd Army Band for the performance of two nation's national anthems. The two groups shared the stage for the playing of both the Star Spangled Banner and Bože Pravde (the national anthem of Serbia, translating to English as "God of Justice"). The local audience, filled with Serbian immigrants, rose and sang to both anthems and responded with thunderous applause.
The Ohio National Guard and the nation of Serbia have been engaged in a bilateral training partnership since 2006. The Ohio–Serbia National Guard Partnership has seen more than 70 joint training events with the Ohio National Guard and Serbian Armed Forces in both the United States and Serbia. Events have included humanitarian missions, medical force exchanges, professional training, national air shows, and visits by heads of state and military chiefs.
Now the Ohio–Serbia National Guard Partnership can add a joint performance of a premiere national symphony and a leading National Guard Band to its long list of successes. The Belgrade Philharmonic has wrapped up its U.S. tour and returned to a full schedule at home in Serbia, while the 122nd Army Band is carrying on its mission of supporting the people of Ohio and the Soldiers and Airmen of the Ohio National Guard.